Under construction
Top Fast WordPress Themes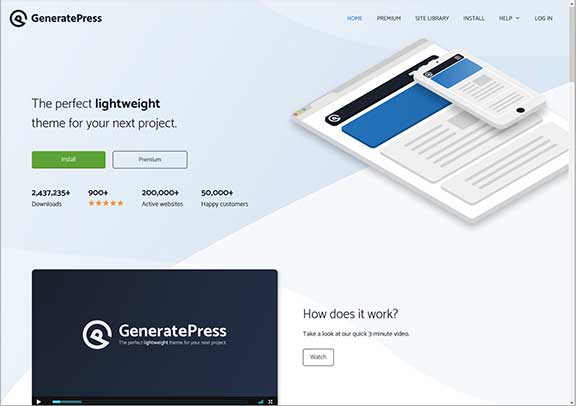 GeneratePress is a modular WordPress theme designed for website developers. It was created under the leadership of Tom Usborne, a developer with 15 years of experience and over 8 years of them working with WordPress. Tom developed many WordPress sites from scratch and probably he got tired of creating a new theme for a new site every time.
So he decided to create GeneratePress. This is a starting theme that allows you to develop a new WordPress project not from the very beginning, but from a specific base. Tom later posted his starter theme in the WordPress.org theme library to help other developers. Today this theme has more than 930,000 downloads, 60.000+ active installations and a 5 star rating!
Key Features of GeneratePress
Adaptivity — the theme is tailored for any screen size.
Optimization of download speed — everything superfluous has been removed in order to ensure maximum responsiveness and speed. The modular approach allows to connect add-ons if necessary, unlike other premium ones, in which a lot of extra heavy code is crammed initially.
The theme is integrated with Schema.org microdata which guarantees a good SEO optimization.
Safety and stability — the theme developer uses the latest and the best practices when using code and adheres to absolutely all WordPress development recommendations. The quality of the code can be compared with the WordPress engine itself.
Flexible configuration — the theme provides a standard WordPress Live-customizer in which you can configure all aspects and parameters.
Modular structure — the theme supports more than 12 add-ons, which makes it one of the most attractive modular themes on WordPress.
Built-in icons — the theme includes a library with a set of more than 600 Font Awesome icons.
Developers-friendly — the theme uses multiple WordPress filters, so you don't have to rack your brains on how it works under the hood.
GeneratePress is a great start-up theme for WordPress developers. If you do not want to develop a theme from scratch and do not want to buy one of the premium themes and then cut out a bunch of excess garbage from it, then GeneratePress is exactly what you need.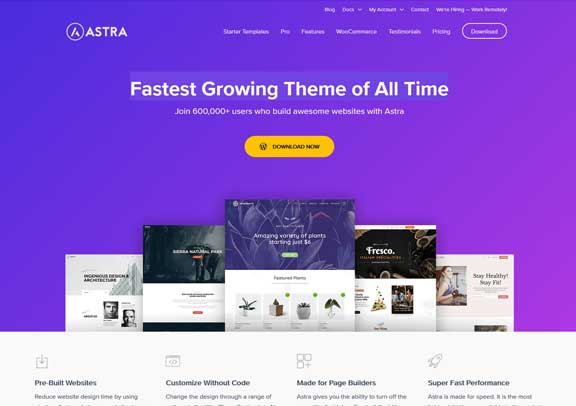 Developed by Brainstorm force, Astra is on the list of the most popular and most downloaded themes. Over a short period of existence, it has collected more than 3000 of the highest ratings from both ordinary users and the WordPress' luminaries.
Features of Astra
Download speed
A distinctive feature of this theme is a high level of performance. According to its developers, the page preview can load in just 0.5 seconds, and there are 2 reasons: firstly, its size is only 50 kB, and secondly, the site does not use jQuery.
Templates
Theme Astra is usually bought to use ready-made templates for sites creation. Such templates serve as an excellent base for sites of any type of business, ranging from restaurants to agencies and clinics, and greatly simplify the creation process. And given that there are more than 50 such ready-made templates for Astra, you will definitely find your option.
Easy setup
Experience has shown, that in the modern world it is not at all necessary to be a code expert in order to create a successful website. If desired, anyone can develop a resource for their needs, whether it be a blog, an online store or a company website. One of the advantages of this theme is the ease of modification without the help of a programmer. This is ensured by a large set of tools and functions with which you can easily design a site for every taste.
Page Builder Compatibility
The Astra theme works seamlessly with all of the popular WordPress builders like Gutenberg, Elementor, Divi, Beaver Builder, Visual Composer, and Thrive Archite.
Astra is provided in two forms: free and Pro. All the pluses of the theme are presented in the free version, however, if you want to use the full range of features, it makes sense to buy the Pro-version. There is an annual and lifetime subscription.
In general, Astra has joined our list deservedly, as a variety of people will like it and it will satisfy any needs.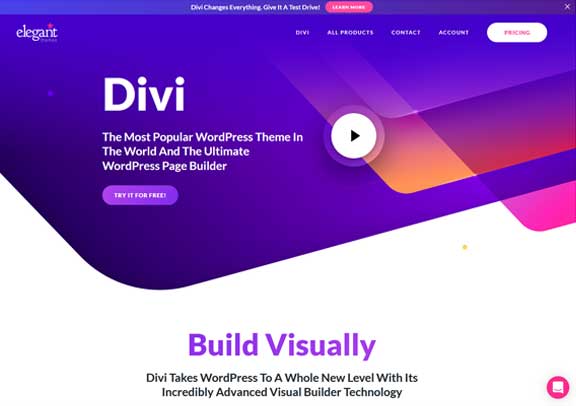 WordPress Theme: Divi
https://www.elegantthemes.com/
Price:
$89
Free version available:
No
Google Developers — PageSpeed

97 Desktop
78 Mobile
GTmetrix PageSpeed Score

A (93%) PageSpeed Score
B (85%) YSlow Score
WooCommerce Speed Test
Coming soon.
Elegant Themes, the creator of Divi, is the most popular independent WordPress theme store on the market today and its flagship product is also quite popular around the world. But besides this, it should be recognized that Divi is really an impressive theme that contains a lot of features and provides them in a package that is easy to understand (even for beginners). The theme has proved to be a convenient option for any kind of websites.
Features
Can be used for sites of various subjects and orientations.
Function Drag and Drop allows to customize pages without programming knowledge.
The presence of WordPress Customizer allows to track page changes in real time.
A set of layouts making it much easier to implement any design.
Divi Library — a special library that allows you to save design options.
Easy A/B testing.
The last point needs more explanation. Divi gives you the opportunity to test completely different elements and modules, thereby realizing whether the right actions are being performed and whether the page is configured efficiently.
A/b testing is designed for site content and allows you to significantly optimize the work. For this purpose, developers created Divi Leads function. It is especially useful for owners of commercial projects that trade online.
It should be noted that it is hard to find an easier way to conduct A/B testing in WordPress. Typically, to achieve such goal, you must use either a third-party module or additionally install the appropriate extension. As you can see, now everything is much easier.
The main characteristic of Divi is its unsurpassed versatility. The theme does not have any "true" appearance. With only a little conjuring over the template, your website can be substantially modified.
Divi Builder is a specialized tool through which everyone can create incredibly beautiful and neat pages. To do this, just select the necessary elements and drag them onto the page. In total, the template provides 46 such elements.
WordPress Theme: Schema
demo.mythemeshop.com/schema
Price:
$35
Free version available:
Yes
Google Developers — PageSpeed

99 Desktop
94 Mobile
GTmetrix PageSpeed Score

A (97%) PageSpeed Score
B (88%) YSlow Score
WooCommerce Speed Test
Coming soon.
The Schema is a theme that is primarily tailored to the needs of the SEO. Due to the high speed and a wide variety of settings, this theme will provide your site with high positions in the SERP; Schema.org function, which provides rich snippets, also contributes to this. The theme is intuitive and generally easy to use and therefore suitable for everyone, including those who cannot code.
Schema Features
High download speed
As already mentioned, Schema  was designed taking into account the most diverse SEO requirements, and therefore, of course, the developers took care of the high page loading speed. Also, if you wish, you can enable certain performance settings, which will further accelerate your website.
Mobile Version Peculiarities
Today, about half of the online activities are performed from mobile phones. This fact cannot be ignored, and therefore the Schema was created taking into account the possibility of surfing the net from various devices. This theme will adapt to any screen size, while maintaining a convenient and beautiful design.
Versatility
Due to its characteristics, the Schema can be used for many kinds of resources: online stores (Schema is WooCommerce-compatible), and, for example, blogs. It offers site owners 15 widgets that will help create the desired website according to your taste.
Easy audience interaction
It will be easy for visitors to contact you thanks to various newsletter settings, as well as integration into social media. The Schema supports all social networks, including local and less popular ones. Such integration will also contribute to the promotion of the site on the Internet.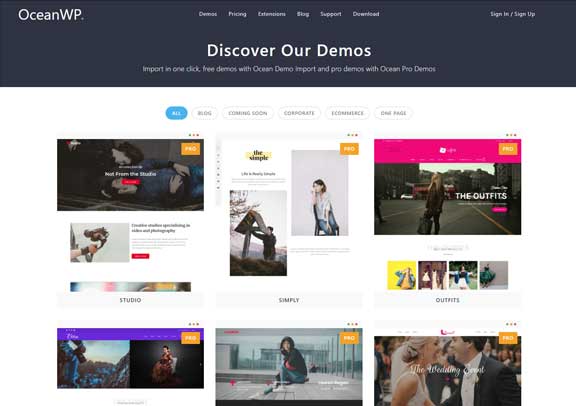 WordPress Theme: OceanWP
https://oceanwp.org/
Price:
59?
Free version available:
Yes
Google Developers — PageSpeed

99 Desktop
94 Mobile
GTmetrix PageSpeed Score

A (97%) PageSpeed Score
B (87%) YSlow Score
WooCommerce Speed Test
Coming soon.
OceanWP is a free multi-purpose theme that gives users a ton of options for customizing their website design using WordPress Customizer. The theme works very quickly; any change will be instantly displayed to visitors. Among other things, the theme includes many free and paid extensions that will make your site super functional.
The most important feature of OceanWP is that it is configured in a very convenient and easy way using the WordPress theme customizer. In addition, OceanWP includes deep integration with WooCommerce. Thanks to the theme customizer, you will have the opportunity to customize the working layout for creating the site using the page builder, or simply gain more control over the theme.
In addition to the usual controls, OceanWP includes many free and premium page templates that you can use with the help of Elementor or the built-in customizer theme.
In OceanWP's case, due to competent optimization, the expansion of functionality by a large number of plug-ins does not greatly affect the site loading speed.
The main theme and most of the features of OceanWP are distributed free of charge. Any user can install it on their website and experiment. This is a great opportunity to understand if there are enough free features to work with or if you need additional ones from the Pro package.
It is worth noting that paid extensions add a large list of useful and necessary functions for each developer. But free plugins do a great job with most everyday tasks.
OceanWP is an ideal option for any of your projects, including an online store. It is an easy and simply customizable theme that will allow you to create sites of many orientations: blog, portfolio, business website and online store on WooCommerce, while having a beautiful and professional design.
Fast, responsive, translatable and SEO-friendly OceanWP theme is available for you. Due to its adaptability, this theme will look great on any mobile device. The theme works with popular page designers such as Elementor, Beaver Builder, Visual Composer, Divi, SiteOrigin, etc.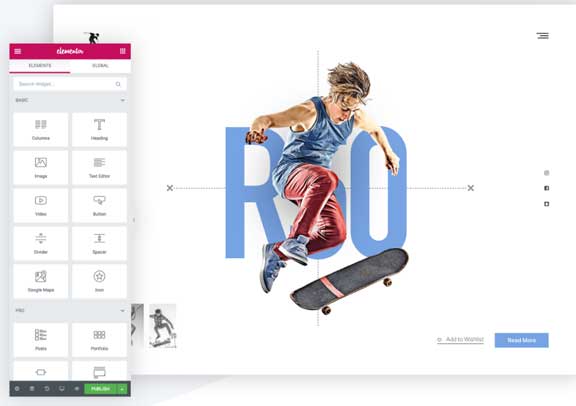 Just a few days after its release, the Hello theme scored more than 10,000 downloads and an average rating of 5 points out of 5. At its very essence, Hello is a blank sheet suitable for any kind of creativity and is fully compatible with the Elementor page builder, for which it was developed. It is believed that Hello is the fastest WordPress theme for the Elementor ever created.
This topic will be a suitable choice for developers who are looking for a basis for further customization. Although there has recently been a tendency to create topics that are almost ready for specific types of sites, Hello goes the other way and gives its users complete freedom for the flight of ideas. After installing the theme, the developer sees a practically empty page, completely ready for filling with any templates from the library. There is also the opportunity to design your layouts from scratch.
Due to the fact that the theme was created specifically for working with Elementor, testing of all its updates is carried out on this very theme, which means that the risks of problems are minimal.
Hello is positioned as an ideal theme for creating landing pages. Due to its extraordinary ease and settings peculiarities, the page loading speed will please even the most impatient users.
Other features include:
Compatible with most plugins, including Woocommerce, Yoast and WPML
Maximum code usability
Limited width and wide format layouts
RTL support
Optimization for people with disabilities
300+ finished pages and blocks
Ease of customization of header, footer and other sections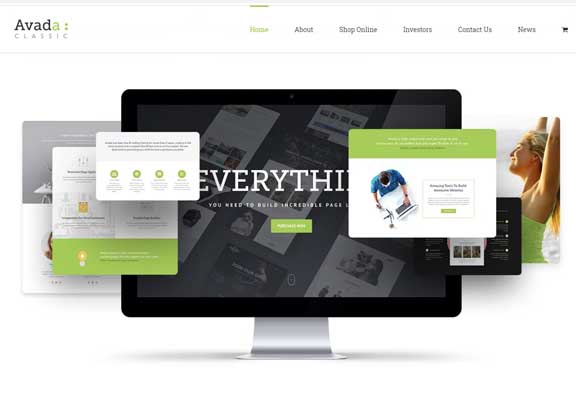 The Avada theme is a true bestseller in the WordPress world! Since its release in August 2012, Avada has been downloaded over 412,400 times from the largest template store, which definitely makes it one of the most popular premium WordPress themes.
Its developers made the most of their skills and talents to create a truly multi-purpose theme that will contain a complete set of various functions, layout and templates; besides, it can easily integrate with other plugins.
Avada is an extremely versatile WordPress theme. It has a balanced design, very flexible functionality, includes a visual page designer Fusion Page Builder and contains a rich package of settings.
Avada has an unquestionable advantage: it is newbie-friendly and at the same time it gives an endless list of possibilities. Avada is very intuitive and completely ready for use in the form in which it is sold.
Built on the basis of HTML5 and CSS3, it encompasses a large number of man-hours spent thinking through and testing all the details of the topic to make it truly enjoyable to use. The quality of Avada can be measured by the huge number of positive reviews of its users. A balanced universal design allows you to create a website of any orientation: business, corporate, portfolio, blog, store, etc.
Among Avada's advantages we can also distinguish:
Avada comes with unlimited design options. It allows you to create almost any style, eliminating the need for several themes. There is a user-friendly options panel that allows you to select unlimited colors and styles.
Mobile and tablets provide a lot of internet traffic. That's why every website needs to be responsive so that it looks good on all the devices and Avada is fully optimized for mobile screens.
Fusion core is a plugin that comes with the theme. It is specifically designed to work with it and adds an extremely easy to use Fusion page builder. Using this page builder, you can create your own pages using all the features of Avada. The Fusion core also includes a Fusion Slider, a shortcode generator and a mega menu.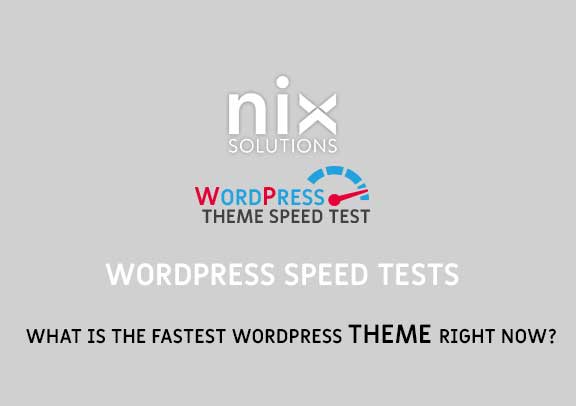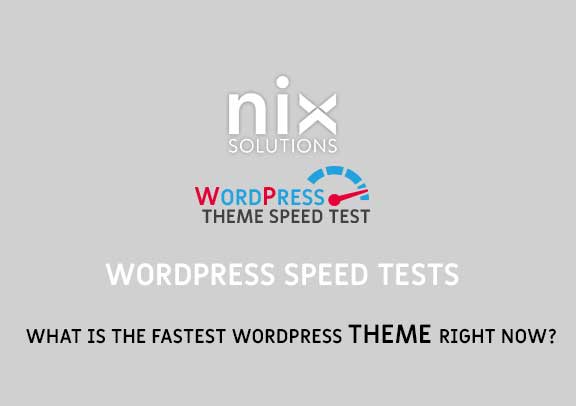 At its core, a site is a web application, it's a code, read and displayed by the browser. Each site has a standard set of functions, standard architecture. It is logical that it is much easier to think over and make some template, a backbone on the basis of which it would be possible to create different projects. And this is why the first Content Management System appeared.
CMS is a program that is used to organize the creation, management, content and sharing of a website. Based on the CMS type, you can create projects of any kind and any complexity. At NIX Solutions, we will carefully choose the best option that will meet all your requirements. Quite often it is reasonable to opt for WordPress.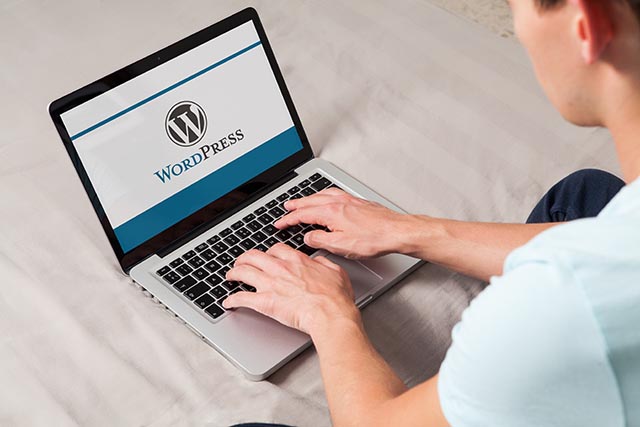 WordPress is a universal content management system that was developed in 2003 by a small group of programmers. This is an open source system, it provides for the installation of additional plug-ins and modules that make any resource a functional site that has all the necessary requirements and functions. Today the system is more refined; most of the functions are built into the engine, which is a significant advantage when creating a resource.
WordPress engine can be used to create any web resource, from a simple blog, a business card website to a complex portal and the CMS team from NIX Solutions can create a high-quality and interesting resource, making it as functional as possible and protecting it from any attack.