For successful competition and PR of its brand, it is important for a successful company to declare itself on the Internet. Creating a practical and presentable resource is a tedious task. Website templates come to the rescue, which will become your lifesaver, as significantly save your time on site development.
Together with SEOnews, NIX Solutions introduces the best templates for WordPress to create the right content platform. These are not only the best, but also universal templates that are suitable for any chosen business area.
Innomerce WordPress Template — Business Multipurpose Minimal Elementor
This template can be useful for lovers of simplicity and conciseness. The developers took care of the user: adaptive resolution, a convenient control panel and menu, in which navigation on the site turns into a definite pleasure. Stylish, seasoned design pleases the eye and serves as an impressive advantage of Innomerce. It is perfect for universal use for both individuals and companies.
Features:
Stylish design;

Ease of use and admin panel;

Ability to edit the text and graphics of the template.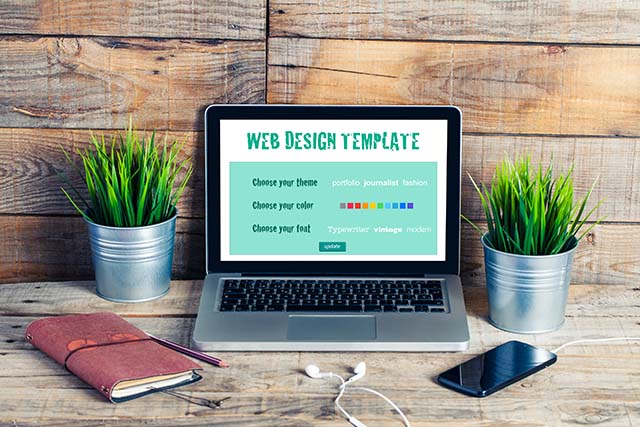 Prioris WordPress Template — Consulting Agency Elementor
For representatives of the consulting services industry, such a template will be a godsend. Conservative, but at the same time representative appearance of the site will reflect the status of the company and create a positive brand perception. It's like you go into the office and at the entrance you are greeted by the organization's core values ​​and information about it, as well as the main specialists of the company appear: with a photo, an indication of position and qualifications — everything is in full view. Menus and site navigation are designed in such a way that the client gets acquainted with the specialization, range of services and company benefits. Prioris does not create the impression of a boring site: various animation effects, a separate blog designed so that you can upload photos, videos, write about interesting events and news.
Features:
Presentability

Ready-made plugins for promoting services;

Animation effects;

6 blog options;

A pleasant highlight is a separate section for winged sayings and quotes from leading experts.
Monstroid2 — Multipurpose WordPress Template
The name of the template speaks for itself: it is suitable for any project. Despite the multifunctionality, the presented template is easy to use and install. By choosing a convenient skin, the user can use the light version, which provides the necessary functionality. After selecting a skin, the version is installed automatically. The Monstroid2 package includes the most popular skins: real estate, construction, sports, food, business and fashion.
Features:
10 diverse skins;

25+ content modules;

Backup temporary settings;

7 homepage designs;

7 styles of header and 3 styles of footer;

20 WordPress plugins.
Metalogic WordPress Template — Software Development
Something unreal and mega-space appears before a visitor of such a site. The homepage gives the impression of a quality software development product. Indeed, for what other sphere, if not a search, a similar template is suitable! The feeling that you are in the future does not leave while navigating the demo site. At the same time, there is nothing superfluous — just an exact hit on the topic of digital technology.
Features:
Digital design;

Easy installation

Virtual editor;

Layouts of additional pages;

Templates: Outsourcing Company Templates, IT Templates, Software Templates, Business & Services, Computers & Internet, Business Services.
Catch Co WordPress Template — Photo Studio Multipurpose Creative Elementor
If asked what the website of a successful photographer should look like, we will point to this template. Such a sophisticated and up-to-date website still needs to be searched. A distinctive feature of the template is the fact that with any chosen design the photographer's portfolio will not be lost, but only emphasize the individuality of the work. And where without a blog and backstages from the shootings is a great opportunity to introduce the viewer to the process of creating a masterpiece or interesting news and lifehacks.
Features:
Visual settings;

Responsive layout design;

Extensive menu

Various blog layouts;

Unlimited number of colors and fonts Google;

The demo site is installed in a few minutes with the ability to create a site from scratch to the taste of the user.
Smixor WordPress Template — Business Multipurpose Modern Elementor
For the most effective promotion of services, there is nothing better than a site with a practical interface, minimalistic design and easy navigation. This can all be safely attributed to Smixor, a versatile WordPress business template. In addition to the possibility of creating an image resource, with the correct display of information about the company and its range of services, it is also possible to add the expert composition of the company with a brief description of the qualifications of specialists. After all, the more the client knows about the company, the more trust it inspires from them, as potential consumers.
Features:
Powerful Jet plug-in package;

JetThemeCore plugin;

Extensive library of templates;

40 widgets;

Style settings without coding knowledge;

Favicon;

Cross-browser compatibility.
Coverur WordPress Template — Flooring Company Multipurpose Minimal Elementor
If someone believes that it is impossible to create an interactive sweet website from the topic of flooring production, we are in a hurry to disappoint them — WordPress has taken care of a similar topic. Coverur template is quite simple and functional. The creation of a blog, gallery, statistics on awards, the number of customers, teams come as a set.
Features:
Blogging;

Universal admin panel;

Easy installation

Posting reviews from customers;

Technical support;

Optimized source code and convenience for search engines.
Globaly WordPress Template — Business Multipurpose Modern Elementor
Blue is the color of height and depth, a symbol of power. The magnificent color scheme, noble color, harmonious arrangement of images and abstracts makes the template solid, it has everything on the subject, no frills. It was created for a businessman, banker or, for example, a private lawyer who prefers to see their site respectable and at the same time laid-back. The site will not surprise you with excessive animation and elements «for leisure», but this is not necessary.
Features:
Laid-back design;

Scrolling parallax;

Convenient navigation;

Business advice;

Service statistics for customers;

Reviews
Blake Business Services WordPress Template
Having familiarized yourself with this template, you involuntarily think that you cannot imagine a simpler and more adaptive content for a corporate site. It will serve as a useful tool for promoting a company's brand. Many models of the main pages provide a wide choice. Various models of blogs and gallery pages in the future are able to attract the right audience.
Features:
Statistics of clients, awards and the number of working hours;

News;

Underlining features;

Google Maps Availability.
Meltony WordPress Template — Minimalist for Any Business
The Meltony template closes our hit parade . No wonder the title contains the phrase "for any business": with the help of this template it is possible to create a website with any content. It contains an ideally designed template concept and  interestingly presented windows — smoothly and unpretentiously overlapping each other.
Features:
Creative design;

Convenient interface and navigation;

SEO Base HTML content;

Related posts

The calendar;

Convection system.